BirdFair 2019 - thanks to WildWings
Posted on: 6th September 2019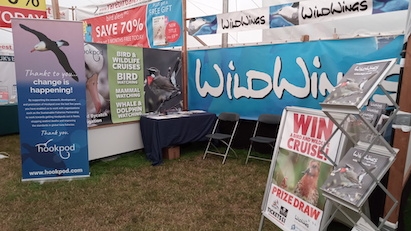 The recent BirdFair at Rutland Water provided a great opportunity to meet old friends, thank supporters of our two recent Crowdfunding campaigns and meet up with some new contacts. It's always a great few days and one of the most pleasing things about this year's fair was how many people know about and have heard about the Hookpod! 
Over recent years, it's been 2-3 days of explaining what it is, demonstrating how it works and putting the conservation value of the pod into perspective. It's so good to now be in a position of simply saying 'Yes – this is a Hookpod; where did you hear about it?". 
Our new leaflets were very well received, as was the news we are working with retailers to increase commercial use of the pod, and we were also delighted to receive sponsorship of £500 from the Bird Photographer of the Year team.
In recent years our presence at the BirdFair has been hosted by travel company WildWings, who specialise in wildlife travel. Their tours to the Falklands, South Georgia and Antarctica provide passengers with incredible close-up experiences of wildlife. 
These voyages offer all the expected birds and mammals of the Antarctic Peninsula including the crossings of the Drake Passage. Chinstrap, Adelie and Gentoo Penguins, Wandering, Royals, Black-browed, Grey-headed and Light-mantled Sooty Albatross, both Giant Petrels, Southern Fulmar, Cape, (Lesser) Snow, Soft-plumaged, Blue and White-chinned Petrels, Antarctic and Slender-billed Prions, Wilson's and Black-bellied Storm-Petrels.
If you are lucky other species may include Great-winged, Atlantic, Kerguelan and/or Grey Petrels and down around the ice, Antarctic Petrels can appear at any time. The expected cetaceans on these voyages would be Humpback, Antarctic Minke and Killer Whales plus Peale's and Hourglass Dolphins but many more species are possible and seen such as Blue, Fin and Southern Right Whales. In addition to the spectacular wildlife you will also wonder at the ice, its shapes, colours and hues and soak in some of the most amazing scenery on earth in the ever- changing light. 
We are really grateful to WildWings for hosting us and for supporting the conservation of some of the incredible wildlife they share with their passengers. To find out more about some of the amazing wildlife trips available, check out 
www.wildwings.co.uk
or email 
tours@wildwings.co.uk